Custom exhibition stands
Are you looking for an exhibition stand builder? You have come to the right place! With more than 12 years of experience in the field, we are part of the rise of our clients and we are proud of this. We love custom projects and after so many years in the field we hardly say: ► you will stay relaxed, because we save you a lot of work in arranging your exhibition booth ► you will be pleased of version 1.0 of the concept and you will reach the one that you consider perfect for you. ► you will have the certainty of a presence in the front line in the exhibition! We have sharpened our ability to turn your desire and need into a real project that will bring you memorable experiences.
Exhibition stands made of Mezzo aluminium structure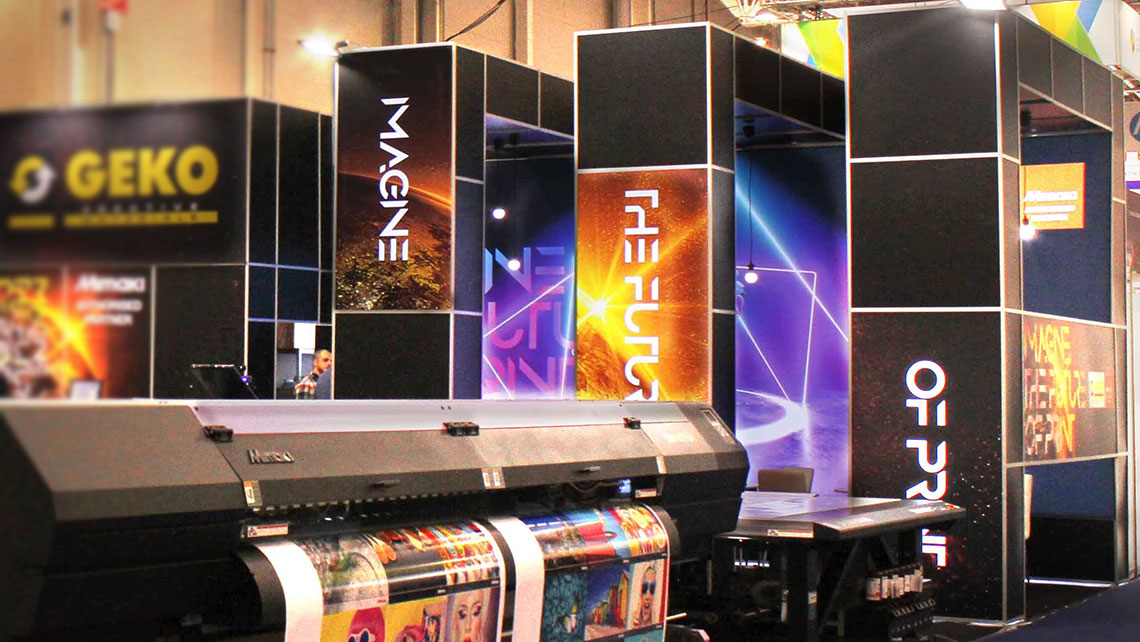 The exhibition stands with aluminium structure or modular stands, as they are known, come with many advantages for the client. These kind of constructions allows a large number of variants, from straight shapes to curved shapes, heights up to 5m, suspended structures, large illuminated boxes, the possibility of integrating the design in other types of constructions, such as those made of fiberboard, wood , etc. Versatility is the main advantage of an exhibition stand construction made of Mezzo modular structure. But compared to other types of construction, such as fiberboard, wood or metal, Mezzo exhibition stands are much more cost-effective.
Exhibition stands with covered structure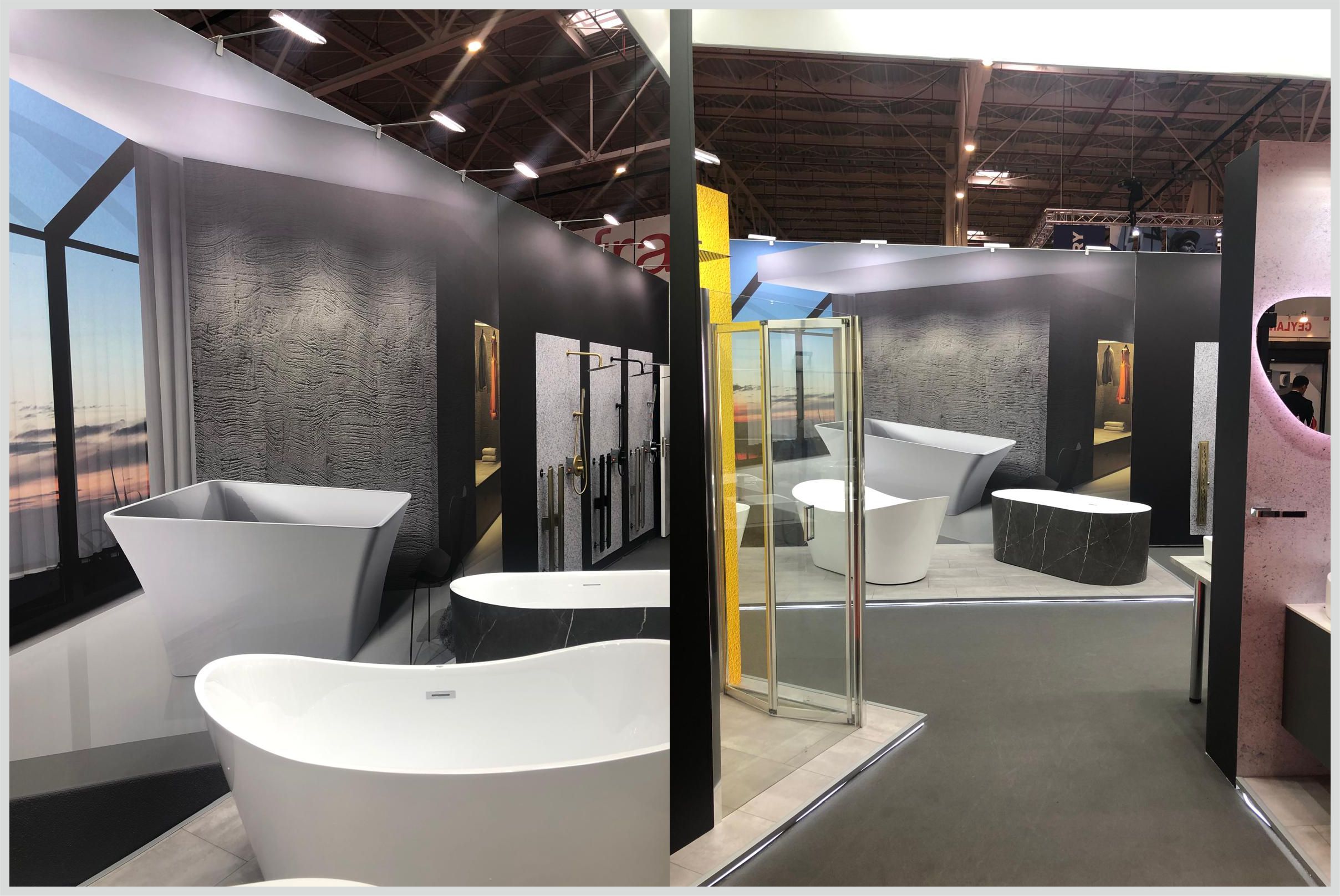 The exhibition stands with the covered aluminium structure enjoy the advantages that Mezzo structure offers, but it comes in addition with a unitary design of the walls. In this case we will not see the aluminium structure, because it will be covered with custom foamboard panels. Design looks continuous, which will satisfy some of the customers that love a unitary construction.
EXHIBITION STANDS AT 5M HEIGHT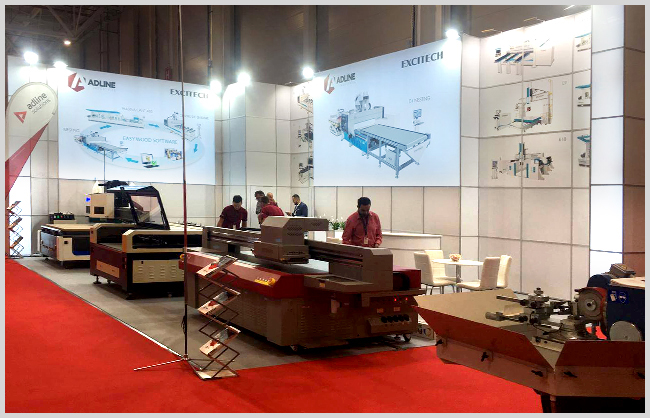 The exhibition stands built with aluminium structure have heights between 2.5m and 5m. If the location of the exhibition allows ceilling suspension of structures on a height of 6m or 7m, then our exhibition booth may have a medium height, in order to balance the picture of the whole project. The Adline Industries stand in the photo above is an open and imposing stand at 5m height.
EXHIBITION STANDS WITH CURVED SHAPES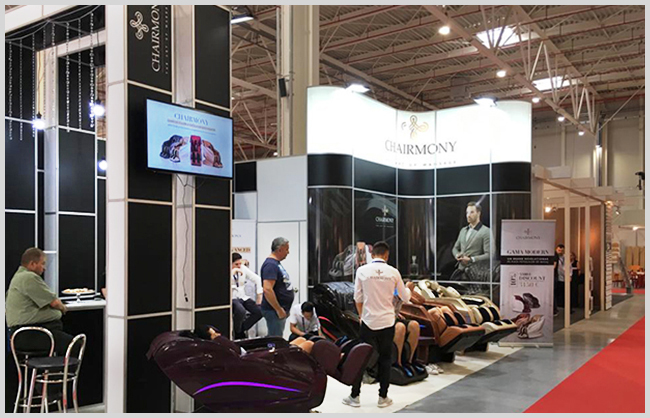 One of the great advantage of the Mezzo structure is the possibility of building curved personalized walls, curved light boxes, ore curved fascia. On curved aluminium structure, we have different radius, from 250mm to 1000mm or even 2000mm. Which makes a really special project is the integration of these curved areas in a straigth shapes concept. The exhibition stands with a curved line are elegant and enjoy their niche of customers
Exhibition stands with textile frames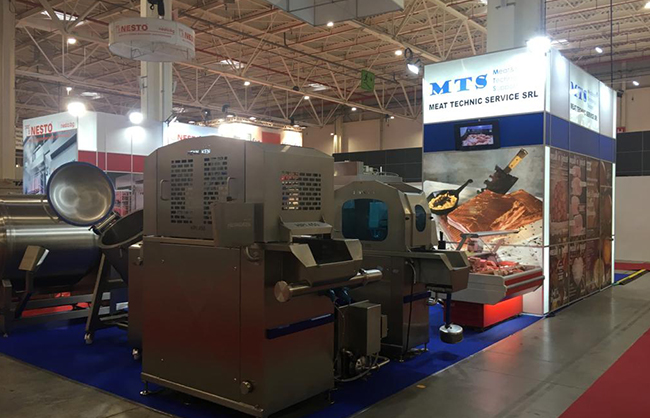 The trend with textile graphics, walls of exhibition stands covered with textile visuals in large format and textile light boxes is far from over. This it has many advantages: graphics without structural joints, large images, graphics that the customer can fold and take it home, etc. Exhibition stands with textile graphics are extremely popular for the possibility of large format display of images.
Customization of exhibition stands
We would like to ad more about the stands we built: all the options presented above are customizable. In our workshop, we dedicate precious time for preparing the stand and printing the artworks. We are customizing white or transparent vinyl (if plexiglass lightbox) or textile (if there are walls covered in textile or backlit textile.).
CHARACTERISTICS
►straight and curved shapes ►customizable pvc and plexiglass walls ►plexiglass or textile backlight boxes ►wide textile backlit and blockout graphics
ADVANTAGES
►varied design, modern, always in trend ►full or partial customization of the walls ►large format textile backlit or blockout, without being divided by the structure ►lower costs than construction of other materials ►up to 5m heights
YOUR BENEFITS
►you are being relaxed, without worrying that you have to work alone with the setting up and dismantling of your own stand ►you will save time, so you will enjoy other projects or important moments for you